Located in the heart of Medan, this Premium Office Tower is part of the Podomoro City Deli Medan integrated area, built by leading Indonesian developer Agung Podomoro Land. The Premium Office Tower along with the entirety of Podomoro City Deli Medan is designed with an eye for both aesthetics and function by the world-class consultant DP Architect Singapore.
The concept of the grade A Premium Office Tower in Podomoro City Deli Medan is adopted from the APL Tower building in Podomoro City Jakarta, where a number of national and international companies have made their base.
The Premium Office Tower Podomoro City Deli Medan is placed in a strategic location. Perched at the intersection of Jl. Putri Hijau and Jl. Guru Patimpus, the building is easily accessible from every direction, with the JW Marriott Medan hotel right across on Jl. Putri Hijau and the TVRI Sumatera Utara station on Jl. Guru Patimpus.
The Premium Office Tower is located on the same road as several major buildings, such as Bank Indonesia, BRI Medan (under construction), Bank Mandiri Medan, Telkomsel, a large post office, several government and private institutions, the Medan City Hall, Lapangan Merdeka (Merdeka Walk), as well as the Medan Airport Railink Station connecting Kualanamu Airport, which is only 0.5 kilometers from Podomoro City Deli Medan or around 3 minutes of driving.

1) The high ceilings and marble in the Premium Office Tower Lobby provide a luxurious flair, cementing its status as a premium office space in Medan. 2) The Sky Lounge at the 8th floor of the Premium Office Tower Podomoro City Deli Medan is decorated with assorted plants and a pool for a cozy atmosphere. 3) A corner of the Office Space Show Unit at Premium Office Tower Podomoro City Deli Medan, with a view of the JW Marriott Hotel Medan. 4) The largest mall in Medan can be accessed directly from the residences and offices at Podomoro City Deli Medan, it also has Rivapark, which is a green open space concept surrounded by famed cafes. (Foto: dok Agung Podomoro Land/.)
The Premium Office Tower at Podomoro City Deli Medan is exquisitely appointed, featuring, a spacious and modern lobby designed by Los Angeles, California-based consultant DYXY, a generator capable of fully supporting the building's operational activities, along with 16 high-speed elevators spread over two corridors; the low zone corridor from the first to the 18th floor, and the high zone from the 19th to the 32nd floor.
This also makes the Premium Office Tower Podomoro City Deli Medan the office building with the most elevators in Medan. Other premium facilities at the Premium Office Tower include the Sky Lounge, a green open space that can be used to host business partners or to have a break from work, allowing tenants to breathe some fresh air while looking over the Medan city skyline.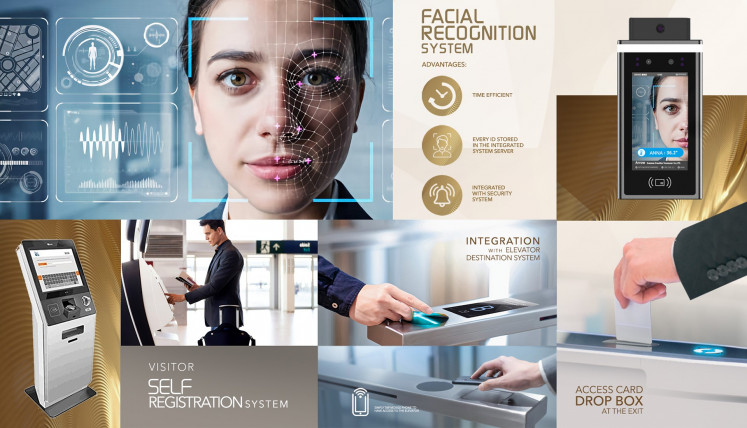 It is the first office building in Medan to utilize a facial recognition system, increasing comfort and security for the Premium Office Tower stakeholders. (Foto: dok Agung Podomoro Land/.)

Along with a host of facilities, the office building also features high safety standards, from CCTV cameras placed at every corner, 24-hour security, and vehicle inspection using inspection mirrors and handheld metal detectors. Visitors entering the building will be subject to security measures like body scanners and x-ray scanners for their belongings. Automatic access to the building lobby will highly utilize state-of-the-art technology for a touchless experience, such as face recognition, mobile phone wireless access and a visitor self-registration system. All three are integrated with the elevator system, which shows visitors which elevator they must take to their destination. The Premium Office Tower Podomoro City Deli Medan offers a wide range of office sizes to accommodate every company's needs, from the smallest at 85 sqm to an entire floor at approximately 2000 sqm.
Currently, a number of companies from a wide range of industries have made the Premium Office Tower their base, from banking, finance, trade, F&B, beauty clinics, to law firms. Some companies have opted to buy half floors, while others have decided to buy an entire floor.
The ground floor is home to two Banking Hall units, one of which has been bought by PermataBank. The Banking Hall will provide ease for financial transactions for companies based at Premium Office Tower Podomoro City Deli Medan. Setting itself apart from other office buildings in Medan, the Premium Office Tower Podomoro City Deli Medan is directly connected to the luxurious Delipark Mall shopping center, providing stakeholders with easy access to daily activities from having lunch, purchasing office supplies, host relations as a meeting point, or even relieve stress by walking along Rivapark, an open green space surrounded by cafes integrated with the Delipark Mall.
The Delipark Mall itself commenced operations last year, and is host to tenants like SOGO, Transmart Carrefour, XXI Cinema with Imax Studio, Best Denki, Fun World, Ace Hardware, Informa and others, including fashion stores, beauty clinics, gadget stores and children's entertainment areas. The tenant mix of Delipark Mall is similar to Central Park Mall in Jakarta, such as Sephora, Pull & Bear, Coach New York, Starbucks Reserve, Kimukatsu, Genki Sushi, and other tenants making their first appearance in Medan.
The Premium Office Space at the building is sold with a Strata Title ownership certificate, providing companies with the peace of mind of not having to worry about lease extensions. The Premium Office Tower Podomoro City Deli Medan is the only office building in Medan that offers a Strata Title ownership certificate, and is professionally managed by the experienced and trusted Agung Podomoro Land, shown by their management and success of the APL Tower in Podomoro City Jakarta.
Secure your space at the Premium Office Space Podomoro City Deli Medan now. Prices start from Rp 2.9 billion, with a booking fee of Rp 25 million. The first to third down payment is as low as 10 percent, while the remaining 70 percent can be paid in installments up to 45 times with no interest. Office Ownership Credit (KPO) is also available through Bank Permata with installments starting around Rp 30 million per month.
Act now, as the promo and number of units are only available for a limited time. For more information, contact the Marketing Gallery Podomoro City Deli Medan at: 061-4567999 or via WhatsApp at 0813-1111-3838, or visit the website at http://www.podomorocitydelimedan.com/en. Subscribe to the official PODOMORO CITY DELI MEDAN YouTube channel to receive the latest information about the integrated area, or follow them on Instagram @podomorocitydelimedan and Facebook @podomorocitymdn.